Academy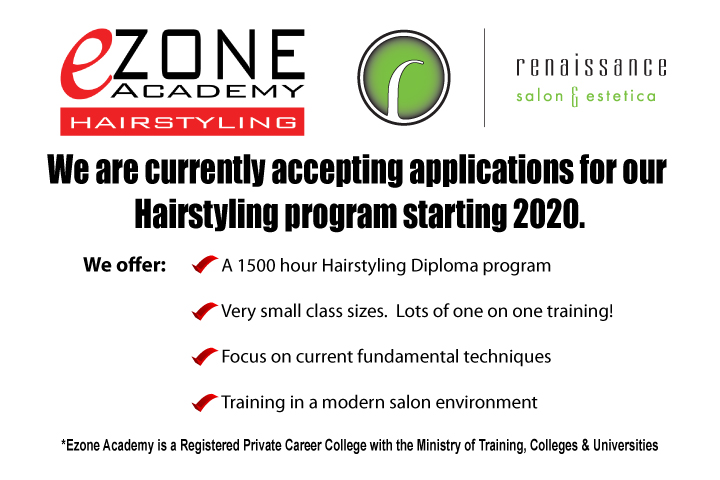 EZONE ACADEMY IS CURRENTLY CLOSED DUE TO THE COVID-19 PANDEMIC.

Ezone Academy – Hairstyling
Ezone Academy offers a 1500 hour Hairstyling diploma program. Our school focuses on the fundamentals of Hairstyling with emphasis on current cutting & colouring techniques. Our instructors are experts in the industry with many hours of training from courses all over North America and overseas. We provide students with the knowledge they need to prepare for their certification exam and have a successful career in this field.
This is a 54 week program.
Small class sizes: Max. 12 students at a time
We help the students build a strong clientele, through client workshops and self promotion. After the first 6 months, students begin work on clients under close supervision by licensed stylists/colorists.
We provide promotional materials such as student price lists and business cards to help students recruit clients. We have an extensive organization/goal setting program designed to create strong work habits for the future.
Our school is Full Time – 4 days a week 
We provide a diploma upon completion of the program.
eZone Academy Salon Pricelist
Hair Styling
 Advanced Student*

 Women's Hair Cut/Style      

 from $26**

 Men's Hair Cut

 from $16

 Blow Dry Styling

 from $21**

 Full Hair Colour

 from $61+

 Root Retouch

 from $31+

 Highlights

from $41 - 86+

Toners
from $21 - 46 
 
Agave Smoothing Treatment       
*starting from $150        
 
*+ Additional costs may apply for thick or long hair or where additional product use and time is required
***extra $5 for flat iron/curls
CALL OR EMAIL FOR MORE INFORMATION!
169 ONTARIO ST. (INSIDE RENAISSANCE SALON) ST. CATHARINES, ON L2R 5K2